Jameson Landscaping offers a walk-thru service to assist you in making planting decisions in the Spring. Whether it is simply removal of dead plant life, replacement with a hardier species, or a brand new design altogether, we can help you make educated decisions.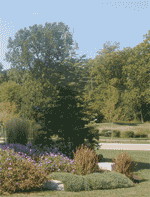 No matter how simple or extensive your needs are, we work diligently to find the highest quality materials. Since soil content can vary from region to region, we only purchase our planting materials from well-known nurseries in our local market that sell certified disease-free plants. All plants carry a one-year warranty from the nursery and are always carefully Hand-Selected to ensure that the size and shape will suit the location, survive, and flourishe beautifully.

FOR FRESH IDEAS - CHECK OUT OUR NEW PLANT CATALOG.

It is filled with photos and detailed information about a variety of plants, bushes, shrubs, and trees that have been known to flourish in our region. The items shown are typically available thru our local nurseries, but may vary from season to season. We are constantly adding to this extensive catalog so, if you don't find what you are looking for -- NO WORRIES -- let us know what you need and we'll do our best to track it down.

Check out more photos in our Landscaping Photo Gallery!